Outdoor portable brand DX2 recently launched the outdoor 300, and formed a series with the outdoor power supply 200 launched some time ago, which greatly satisfied the demand for high-power and large-capacity power of outdoor portable equipment, and with excellent industrial design, these series products won the 2016 German Red Dot Design Award. It is understood that the original intention of DX2 brand to do outdoor portable power supply is towards outdoor life, and except the existing outdoor clothing, tools, medical, etc., What else do outdoor enthusiasts need?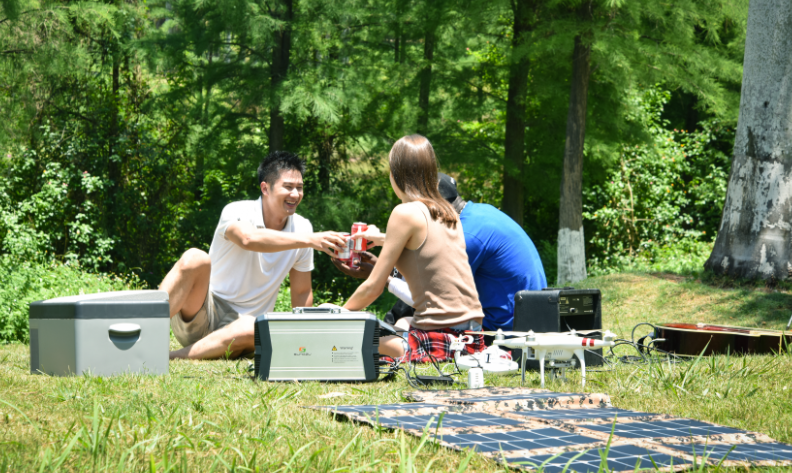 With the improvement of people's quality of life, and more and more self-driving enthusiasts, outdoor travel teams, individual players, the corresponding equipment is more and more professional, such as drones, the market capacity burst in 2015. According to the 2017 China Campground Industry Investment Report, the number of self-driving tourists in China in 2017 reached 3.1 billion, increased 17.4% over 2016 and 62% of the total number of domestic tourists. Will outdoor power supply become the standard product to carry for self-driving travel in the future? If this is the case, the market of such outdoor power products will be fully erupted. Because many areas are 200W high power pure sine wave AC output, adapt to more power equipment. Appropriate for self-driving travel, camping, outdoor small music party, family emergency power and other applications, mainly to solve drones, car refrigerators, cameras, laptops, projectors, outdoor lights, mobile phones and other power supply.
In the outdoor extreme environment, DX2 outdoor power supply 300 can solve the problem of short life of the outdoor photographer drone, the number of charging can reach 3-6 times, and different drone models with charging times. Let the drone fly in the sky and record more moments of shocking soul times. DX2 outdoor power supply 300 charges for camera for about 20-30 hours, which satisfies the long-term demand for electricity in photography. Outdoors, there is electricity with the sunlight, and the solar panels that accompany the sunlight make the using time longer for DX2.
It is understood that in 2019, DX2 will gradually develop outdoor power supply 500, outdoor power supply 1500, form an outdoor power brand series, and establish the most professional outdoor power brand image of DX2.
From the perspective of industry standards, DX2 has defined the industry standard for outdoor power supply categories: the Ministry of Industry and Information Technology, China Electronics Technology Standardization Research Institute and Huabao New Energy (Electric Small 2 parent company) jointly drafted "portable lithium-ion battery energy storage" Power supply specification." As a new category and emerging market segment for outdoor power supply, outdoor power products are bound to attract more competitors, and DX2 as an industry standard setter, as well as outdoor portable power well-known brand, occupies a very high brand awareness and great advantage. The most important key factor of outdoor power supply is the safety and stability of the product. For each user's safety considerations, it is hoped that DX2 can lead the outdoor portable power supply category to benign competition with its own influence, and also form the outdoor equipment market, new consumption points and market prospects.
https://sungzu.com/wp-content/uploads/2021/12/lQDPJxZtSch1YlHNAljNBLCwxorOzn6wEG8CtB_FvUDTAA_1200_600.jpg
600
1200
管理员
https://sungzu.com/wp-content/uploads/2019/09/logo.png
管理员
2019-07-24 09:08:58
2022-06-22 06:46:41
Innovative portable outdoor power supply, how big is its prospective market?