Sungzu SKA500 portable solar generator product features:
Aluminum all-gold integrated body is sturdy and durable.
2.using PC plus fireproof plastic materials.
3.pool temperature control protection.extend battery life.
4.pure sine wave inverter output.output.
5.support the side charge function.
6.with solar MPPT function.with solar charging board.can make solar panel power generation to a better state.
Protection function: over temperature protection.over discharge protection.over current protection.short circuit protection.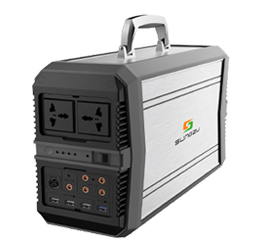 Sungzu SKA500 portable solar generator product parameters:
1.battery type: Zhuoneng Power 18650
2.USB1 output: 5V/3A
3.DC output: 12V/8A (MAX)
4.AC output: 220V/1000W/50Hz.110V/1000W/60Hz
5.input voltage: 32V-45V
6.input current: 10A (MAX)
7.battery capacity: 25.9V39Ah
8.charging time: 5.5-7 hours
9.static power consumption: ≤200uA
10.cycle life: ≧ 800 times (capacity ≧ 80%)
11.working temperature: -10 ° C – 65 ° C
12.volume: 408 * 163 * 256MM
13.weight: 11.5 kg
Scunzu SKA1000 portable solar generator application environment:
Medical equipment, emergency resp
onse, outdoor activities, drone life, self-driving tour, household electricity storage, lighting, office, fishing, military and other areas of electricity.
https://sungzu.com/wp-content/uploads/2019/09/logo.png
0
0
candice
https://sungzu.com/wp-content/uploads/2019/09/logo.png
candice
2018-12-24 13:41:59
2019-10-30 08:41:15
Sungzu SKA500 product features and application environment